---
---
The Beckton Program: Birth Weight & Calving Ease
Starting several years ago, the American Red Angus Association has included a Calving Ease EPD. On the Red Angus Sire Evaluation, the average Calving Ease EPD for Beckton sires is +12, more than double the breed average of +5. A Calving Ease EPD of +12 is the 5% percentile level for the breed, meaning the average Beckton sire is in the very top 5% of the entire Red Angus breed for calving ease. High Calving Ease EPD's are integral throughout our entire cowherd and all of our bloodlines.
Many cattlemen have used Beckton bulls for their heifers because of their low birth weights and high Calving Ease. However, our bulls are even better where used on cows, because most replaceent heifers tend to be selected from calves out of older cows. Keeping replacement heifers sired by Beckton Bulls is the quickest way to limit cow size creep and to moderate cow size for the future. In our own program we use the same bulls on both heifers and cows - every bull is used his first year with heifers to evaluate calving ease, and used in future years with older cows. We get calving ease, growth, and moderate-sized replacements, all with the same bull.
In the 1960's we adopted a policy of putting a limit on birth weight for any bull entering our program. (we don't actually select for "low" birth weights.) Our cut-off was originally set at 90 pounds (mid 80's for calves out of two year olds). We have increased it since to 92 pounds to allow more use of an occasional outlier bull. But we keep our average sire birth weight low.
We also look at birth weight in females, but birth weight selection in females is less critical because an individual female does not have the numerical impact that a bull will have. It takes 30 cows to moderate the birth weight influence of a single high birth weight bull, but it only takes one bull to moderate a high birth weight cow, and that is the bull we are probably using anyway.
A benefit of this strict procedure is that genetics leading to high birth weight have never been introduced into our cow herd. As a result we get very few birth weights over 90 pounds in each year's calf crop. In other herds one sees a substantial percentage of high birth weight calves, which is indicative that genetics leading to high birth weights are spread throughout the cowherd and most bloodlines. In these cases, high birth weights will persist in future generations.
The secondary goal of birth weight selection is for calving ease, with the benefit of increasing calving and weaning percentage. In dollars, a single extra live calf at weaning is worth the same as 1400 pounds added to the total calf crop weaning weight. And it is much easier to obtain this single extra live calf. This is why we have always stressed birth weight, calving ease and fertility in both our selection and in our marketing.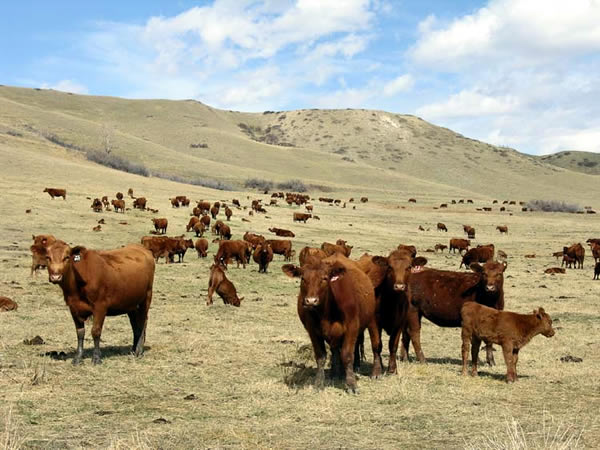 ---
---